You are planning for your little weekend to visit Lyon in 1 day. And of course, you would like to be able to discover in 1 day the most beautiful sites and all the must-see places of Lyon. To do this, I propose you below my walking tour which allows you to see the most beautiful places of Lyon! My city tour makes a loop that can be done quietly on foot in one day (see map of the itinerary below).
Lyon 1 day tour – My list of must-see places
Difficult to choose among all the beautiful places in Lyon, the sites that turn out to be the most interesting to visit in 1 day! It's also not easy to organize them in order to make a nice circuit on foot in a loop but not on the run… So I have voluntarily eliminated all visits to museums and some churches.
The majority of the sites of this city tour are to be seen from the outside because to make the in-depth visits, it would be necessary to plan at least 2 days because the visits of museums require time…
Here is the list of my must-see places in Lyon that I have selected for my city tour (in the order of visits):
Square Bellecour
Square of the Jacobins
Square of Célestins
Theater of Célestins
Old Lyon
Saint John's Cathedral
Coline de Fourvière
Basilica of Our Lady of Fourvière
Lugdunum
Restaurant Christian Têtedoie
Ascent of the Gourguillon
Traboules of old Lyon
Dinner cruise at the Hermès restaurant
City tour Lyon in 1 day – Walking route map
Click on "Plus d'options" on the map to follow the GPS
Lyon city tour in 1 day – My circuit
Departure from the Square Bellecour. This is the heart of the Presqu'ile de Lyon, a large square where the people of Lyon gather for all types of events (sporting, cultural or political). You will of course take a picture of the statue of Louis XIV on his horse and why not have a little coffee to start the day!
Then, you will leave by the street Emile Zola, to join the 1st stage of my circuit: One of the most beautiful squares in Lyon, the Jacobins' Square!
Then taking the rue Jean Fabre, you will arrive at the Square of Celestins and then discover the Celestins Theater which is a magnificent Italian style theater.
When you reach the Quai Tisitt, you will take the Bonaparte Bridge which allows you to cross the Saône River to arrive in the heart of Old Lyon (medieval and Renaissance district). The best will be to start visiting the Saint Jean Cathedral and admire its gigantic rose window, its threatening gargoyles and its majestic Gothic architecture.
Then I advise you to go to the funicular station which is at the Vieux-Lyon metro station. This way, with the funicular, you will go directly (and more easily than on foot) up to the Coline de Fourvière.
This is where you will find the Basilica of Notre-Dame de Fourvière, which overlooks the city of Lyon since the end of the 19th century.
From the basilica's esplanade, you will have a panoramic view of Lyon. You will be able to visit the basilica which was built to thank the Virgin for having spared Lyon from the Prussian invasion in 1870.
Then the tour continues by the rue Roger Radisson to turn into the rue Cléberg to enter the Lugdunum site. This is the ancient site of Fourvière whose entrance is free. You will be able to visit the great Gallo-Roman theatre (15th century BC), the Temple of Cybèle or, further down, the Odeon which has preserved some beautiful mosaics.
To continue the itinerary, take the rue Clébert, follow the Place de l'Antiquaille down to the rue Pierre Marion to arrive at no. 4 of the street. It is here that I advise you to take your lunch break: at the Christian Têtedoie restaurant.
It's a good plan for lunch because this gastronomic restaurant offers a gourmet and refined cuisine with a formula at 24 € and in a really nice setting (panoramic terrace).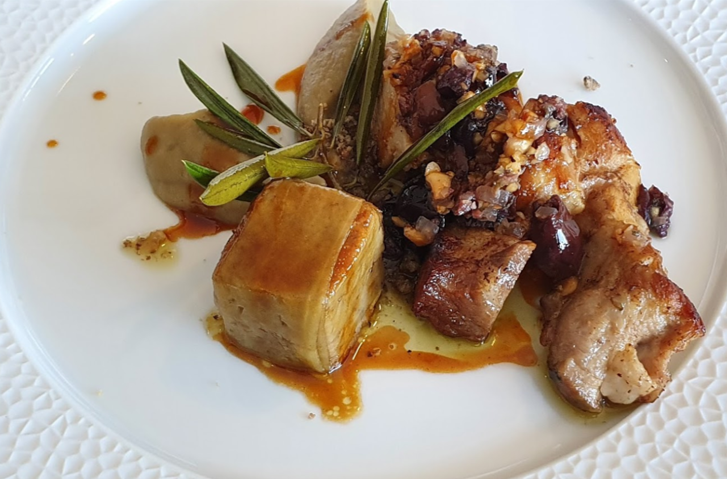 Now that you have enjoyed your meal, I suggest you do the ascent of the Gourguillon in the opposite direction!
Going down Pierre Marion street, you will turn left on des Farges street to join Montée Gourguillon that you will go down. This street (little known to tourists) is one of the oldest streets in Lyon with its cobblestones, its medieval houses from the 15th century. You will be able to admire rare half-timbered houses in the impasse Turquet, a street perpendicular to the rue Gourguillon.
At number 2 of the street, a traboule opens up to the Chemin Neuf. You can take it to get to Place Beauregard and take the stairs to Montée des Épies.
But you probably think about a traboule ???? What's a traboule?
They are small passages characteristic of the city of Lyon that allow you to cross from one street to another or from one district to another. Lyon has more than 300 of them which have become real tourist attractions. If you want to visit them, there is an application (mobile application to download) that allows you to follow itineraries specifically dedicated to traboules visits.
And if you want to discover some by yourself, here is the list of the most visited traboules:
Rue Royale / Quai Lassagne
6-8 petite rue des Feuillants / 19 place Tolozan
2 place des Terreaux
4 rue Désirée / 7 rue Puits-Gaillot
3 place Louis Pradel / 1 rue Luigini
5 rue Joseph-Serlin / 2 place Louis Pradel
13 rue de la Poulaillerie / 2 rue des Forces
Passage de l'Argue
2 rue Charles-Dullin / 1 rue Gaspard-André
After getting lost in the narrow streets and traboules of old Lyon, you can return to your hotel to relax before dinner.
And to finish in beauty, why not have dinner while taking a beautiful boat cruise on the banks of the Rhône? It was a report that gave me this idea some time ago: Voir le reportage
The advantage is that you will be able to spend a romantic evening along the water while discovering monuments that you will not have had time to visit in my Lyon in 1 day tour!
To make this dinner cruise at the Hermès restaurant (provided by the Cie Les Bâteaux Lyonnais), you have to go to 16 quai Claude Bernard (left bank of the Rhône at the foot of the University Bridge) only 10 minutes walk from the hotel I present you below. Don't forget to book at 04.78.42.96.81 !
Holidays in Lyon – Hotel recommended
For a quiet stay in Lyon, I recommend you to choose a hotel that is well located to be in the most beautiful areas of Lyon, not to lose time in transportation and to be close to restaurants and shops while being quiet.
My good plan is the hotel La Résidence because it is really perfect in terms of services, has an ideal location and all this at an unbeatable price for Lyon! Indeed, it is located in a pedestrian street of the peninsula of Lyon, 3 minutes walk from Place Bellecour and 450 meters from the old town.
Voir cet hôtel sur Booking.com
I hope my tour inspires you… So, maybe on the occasion of the Festival of Lights or a combined Lyon – Annecy tourist weekend, you will have the opportunity to follow this little tour of Lyon on foot!
and to continue the tour of Lyon, here: How to visit Lyon in 2 days