To visit Strasbourg in 1 day is a real pleasure for the eyes and for the palate! Indeed Strasbourg, capital of Alsace and European capital, remains a small city that can be visited very easily on foot in 1 day. With its half-timbered houses, its historic centre, its European Parliament, its wines (Riesling, crémant d'Alsace, Muscat) and its gourmet specialities (braised ham, flammekueche, choucroute, Alsatian poté, kouglof, gingerbread…), Strasbourg offers an opportunity to combine cultural visits with gastronomic discoveries.
Strasbourg is often the first stop on the Alsatian wine route and can be visited all year round. And for those who are lucky enough to go there at the end of December, the wonderful Christmas market in Strasbourg will be (even more) a good reason to spend a weekend or a week there…
Strasbourg in 1 day – My walking tour
Here is now the detail of my itinerary to visit Strasbourg by a small walking tour that allows you to visit most beautiful places of the Alsatian capital in a short day!
Notre-Dame de Strasbourg Cathedral
Palais Rohan
La Petite France
Ponts Couverts
Barrage Vauban
Restaurant La Maison des Tanneurs
Place Kléber
Grande île
Diner in the restaurant Le coin des pucelles
Strasbourg in 1 day – Map of my city tour by foot
Click on "Plus d'options" on the map to follow the GPS
Strasbourg in 1 day – Morning itinerary
My tour begins with the Notre-Dame de Strasbourg Cathedral, a 14th century Gothic masterpiece.
Strasbourg's must-see attractions – Cathedral Notre Dame de Strasbourg
First of all, it is its height that impresses: 142 meters high with an arrow that culminates at 566 m!
Then we are seduced by the building, its stained glass windows and sculpted pillars. At the bottom of the cathedral is the famous 16th century astronomical clock, listed as a UNESCO World Heritage Site. You can see it animating every quarter of an hour.
It is possible to visit it inside for free and pay 5 Euros to climb the 330 steps to reach the roof and enjoy a spectacular view!
Strasbourg's must-see attractions – Le Palais Rohan
From the Cathedral go to the Place du Château and continue along Rue de la Râpe. After the Fine Arts Museum, turn right to reach the Rohan Terrace on the quays.
The Rohan Palace is an old princely residence in the Baroque style. It now houses 3 museums: the Museum of Decorative Arts, the Museum of Fine Arts and the Archaeological Museum.
Strasbourg's must-see attractions – La Petite France (Little France)
My tour now takes us to one of the most beautiful sites in Strasbourg: La petite France.
To get there, you will have to go back to the Cathedral Square and take Rue Mercière. Then go right on Rue du Vieux-Marché-aux-Poissons and turn left on Place Gutenberg and continue on Rue Gutenberg. Continue on the Grand'Rue and turn left on Rue des Meuniers, Rue du Bain-aux-Plantes and finally Rue des Moulins.
It is in this district that Alsatian architecture is most picturesque with its half-timbered houses, small alleys, flowers on the windows and cobbled streets that criss-cross the old town. From the quai des Moulins, cross over via the water passage to discover the lock system above the Ill. It is these canals that have given Petite France the nickname "Little Venice of Strasbourg".
Strasbourg essentials – Covered Bridges and Vauban Dam
In the district of La Petite France, you will have to walk on the 3 bridges of the 13th century covered with wooden roofs then go to the Vauban dam which is a lock bridge classified as a historical monument (17th century). From there, you can take beautiful pictures!
Strasbourg in 1 day – Restaurant for lunch
Considered the best sauerkraut restaurant in Strasbourg, La maison des Tanneurs is also a historical site (built in 1572). It is the ideal place in the heart of Little France to take a lunch break!
Maison des Tanneurs: 42 Rue du Bain-aux-Plantes
To get there, you will have to go back to Ponts Couverts, take the Quai de la Petite France and then turn left on Rue des Moulins. Finally, turn right on Rue du Bain-aux-Plantes.
Strasbourg in 1 day – Afternoon itinerary
Strasbourg best places – Place Kleber
Place Kleber is Strasbourg's main square. It is here that you can admire in winter the huge Christmas tree (30m high), chalets at the Christmas markets and an ice rink.
We must not forget either the statue of Jean-Baptiste Kléber and the Aubette (18th century building).
To get there, head towards Rue du Bain-aux-Plantes and Rue des Cheveux. Turn left on Place Benjamin and continue along Rue du Fossé-des-Tanneurs then turn right towards Place Kléber.
Strasbourg best places – La Grande Ile (the Big Island)
Then take the rue des Grandes Arcades and turn left on the rue Sainte Marguerite, you will quickly reach the Grande Ile of Strasbourg.
You will therefore return to the historic heart of Strasbourg. UNESCO World Heritage Site, this district is the place that best represents the city's Alsatian identity. All the charm of Strasbourg is there: Medieval architecture, religious buildings and private mansions…
A short detour is necessary to go to the Place du Marché-aux-cochons-de-lait to admire beautiful half-timbered houses.
But the Grande Ile is also the ideal neighbourhood for shopping. You will find large chains but also many small shops selling local products.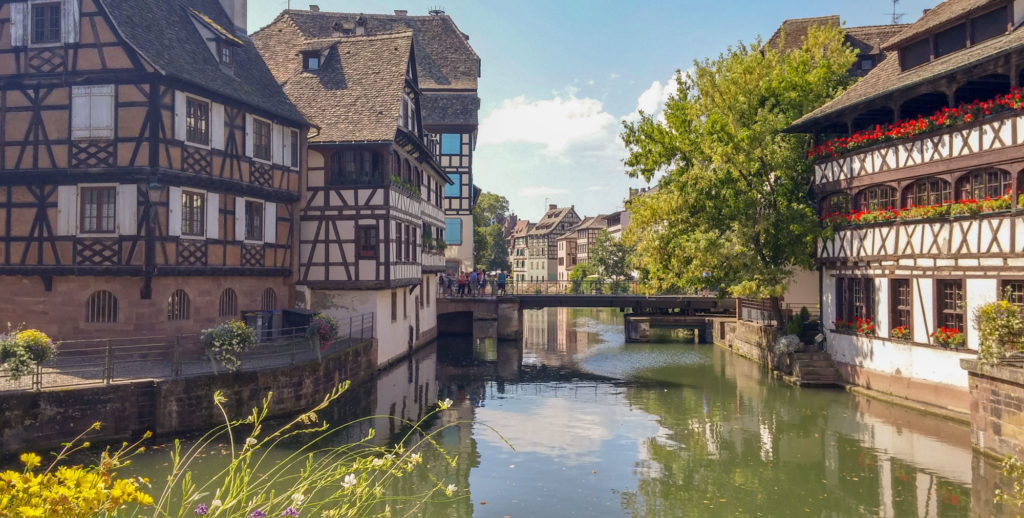 Strasbourg best places – Restaurant Le Coin des Pucelles
To end this beautiful day of visits in splendour, there is an essential place in Strasbourg's culinary heritage: the Winstub Le Coin des Pucelles. I advise you to book or go very early in the evening. Indeed, just like in Germany, Alsatian restaurants open early in the evening and also close very early…
To get there, you will have to take Rue Brûlée first, then Rue des Hallebardes and continue on Rue des Juifs. By turning right on Rue des Pucelles, you will find this Winstub where you can taste Alsatian specialities in a typical and historical setting!
Visit Strasbourg – Recommended hotel
If you want to experience a 4-star hotel ideally located in the heart of old Strasbourg in a historic building dating from 1528 and an exceptional setting, then you should choose the Hotel Cour du Corbeau. It is surely the best option if you want to spend a night in a magical place, out of time and only 550 meters from the Cathedral!
More information about this hotel
Need more ideas for visits?

Here is how to visit Strasbourg in 2 days